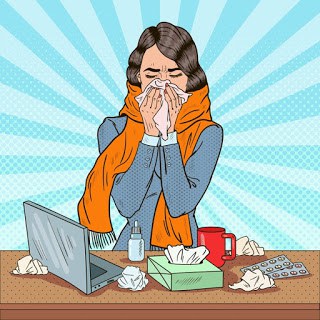 It's that time of year again, when doctors, nurses, pharmacies, and pretty much everyone including your grandma is advising to "Get your flu shot!" News stories breathlessly warn of flu seasons that are "terrible" and "alarming" and sure to bring death upon the unprotected masses. I've written elsewhere about the flu, flu shots, and even about some home remedies one can try to shorten the flu and make it less uncomfortable. In this short piece I'd like to just share some of the things that I think are important to know and remember about this annual viral pest.
First, "Do I need a flu shot?" Well, it depends on your what you consider important. Most years the flu shot isn't terribly effective, but it still does protect some people from getting the flu. You can't "get" the flu from it, but you could get something like the flu that's caused by something else, or you could get the flu because the vaccine didn't have enough time (usually at least a week) to help you build up antibodies to the virus. So the main downside: it may not work.
Next "Can the flu shot cause me to have problems?" The mainstream answer to this is "Mostly no, and the really bad stuff is rare." This is true, sort of. In homeopathy, we observe that exposing the system to any infection can in some people cause unusual problems. Certainly, when I am treating someone constitutionally, I find that flu shots can sometimes cause people to backslide, relapsing into what we were successfully treating, whether that's migraines, ADHD, Lyme, or whatever. I have seen cases in which a simple flu vaccine seemed to be connected to issues that are difficult to fix after the fact. The science doesn't show this because vaccine safety studies aren't designed to find this sort of thing.
In short, the reality doesn't live up to the hype.
In my practice I have three bits of advice. Risk of getting the flu can be greatly reduced by good hand hygiene. Getting a flu shot may provide additional protection and in many cases won't cause new problems, but its value is way overstated. Finally, if you are leery of getting a flu shot, just remember that there are ways to reduce its impact if you should come into contact with it.
What's interesting is that one way to reduce its impact is to take your constitutional remedy. I find that people in constitutional homeopathic treatment are less likely to get sick, and when do get sick, it's usually not as bad. Elsewhere in my blog I talk about the use of some herbs to help boost immunity and soothe the soreness that comes with the flu. Any treatment for any sort of viral illness like the flu is best done early! So if you start feeling poorly, start your echinacea and call for a consult at your earliest opportunity.
We know it's coming, and there's a lot one can do to prepare. So stock up on your herbs and enjoy the good stuff that comes along this time of the year. Yes, it's flu season, but it's also The Holidays, so stay healthy and have some fun with friends and family.
Don't know where to turn for professional quality herbs without calling me? Now you can order directly at my Wellevate Store at Emerson Ecologics. For a limited time, all products are 10% off!